Congratulations!
You've taken the first step towards getting a pilot license.
Flying will open up new worlds and new possibilities.How about flying to the beach for the day? Flying your friends to a near-by town for lunch? Or visiting family without spending hours or days in the car?You can decide to fly for or a career as a corporate or even an airline pilot. You can do it!
Introductory Flight Lesson only $115!
Bergstrom Aircraft, Inc. is the Tri-Cities Aviation Center.  If you are dreaming about flying then it's time to schedule an Introductory Flight!   Your introductory flight is not just a joy ride—it is also your first flight lesson. This is your first opportunity to see what it's like to visually inspect the aircraft before flight, take off, fly, land, park, and shut down. You'll  fly a popular training airplane, the Cessna 172 Skyhawk. During the flight, an instructor will be sitting beside you with another set of flight controls, but you'll be in the pilot's seat. To your amazement, the flight instructor will let you take the controls (he or she will be there to assist, of course) and show you how beautiful your hometown looks from above. Your flight will last about 30 minutes, and you will even receive a logbook so you can record your flight lesson and it counts toward the required flight time for your pilot certificate.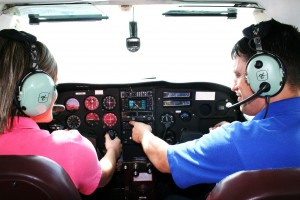 There is no obligation or class sign-up required. This is the best way to discover what flying is all about.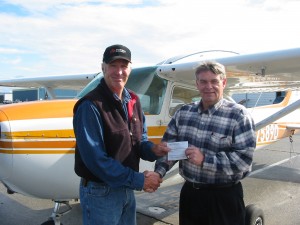 Reminder!
Flight students, please bring proof of citizenship (birth certificate with picture ID or passport) to your first flight lesson.
This is a TSA rule that applies to anyone beginning primary training or any additional rating.
For more information, see www.aopa.org/tsa_rule