Here are a few photos of Bergstrom Aircraft Inc. and the people and planes that make our facility so much fun to visit! Follow us on Facebook!

Some of the cool things at Bergstrom Aircraft that happen on a daily basis!
This is where all the aircraft stay during the boat races. Here at Bergstrom's we take crare of all their needs.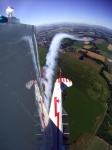 Just some random shots or our staff at Bergstrom's